D&W BBQ Co.
about us
D&W BBQ Company is a veteran & family owned Award Winning BBQ sauce manufacturer and distributor located in College Station and Wichita Falls, Texas. Our gourmet barbecue sauce recipe was handed down to me from my mother, who learned and refined the original recipe from her father. Our Blue Ribbon Sauce recipe has been in our family for over 50 years. D&W BBQ recently took home 1st Place for the People's Choice Award during the 2014 NBBQA Conference & Trade show in San Marcos, TX
our story
After years of watching my mother make this BBQ sauce in the kitchen for our own backyard family BBQ's, we decided to take on the BBQ sauce industry with our Award Winning Blue Ribbon BBQ Sauce.
Unfortunately, my mother is not with us anymore. She was diagnosed with colon cancer in September 2009 after having an emergency appendectomy. By the time they found the tumor, she was in stage 4 colon cancer. Her battle with cancer lasted a little over three months before she passed away January 3,2010 at the age of 44.
In memory of my mother and to help spread awareness about colon cancer, a percentage of the proceeds will be donated to the Colon Cancer Alliance and the Tina Wright Memorial Art Scholarship. Our goal is to offer the best tasting BBQ sauce around and help spread awareness to the public about this preventable, treatable and beatable cancer.
Check out our recipes and order your bottle of our Blue Ribbon BBQ Sauce today. One dollar from every bottle sold will be donated to the Colon Cancer Alliance.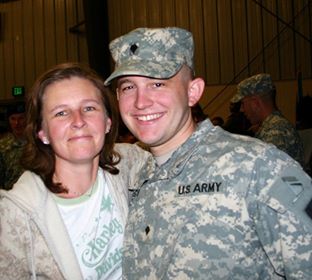 Mom was glad to have me home after a 15 month deployment to Iraq